SCANNING EXPERTS
Welcome to the heart of our operation – our team of dedicated scanning experts. Our professionals are specialised in a multitude of volumetric disciplines, from advanced LiDAR scanning and precise aerial capture to the creation of intricate 3D and 4D models. Each team member brings their unique expertise to the table, enabling us to drive innovation and excel in a variety of sectors. We're proud to offer our services across the film and TV industry, fashion, gaming, construction projects, and heritage preservation initiatives.
LiDAR Specialists
Photogrammetry Experts
Drone Pilots
Digital Technicians
3D Artists
Unreal 5 Developers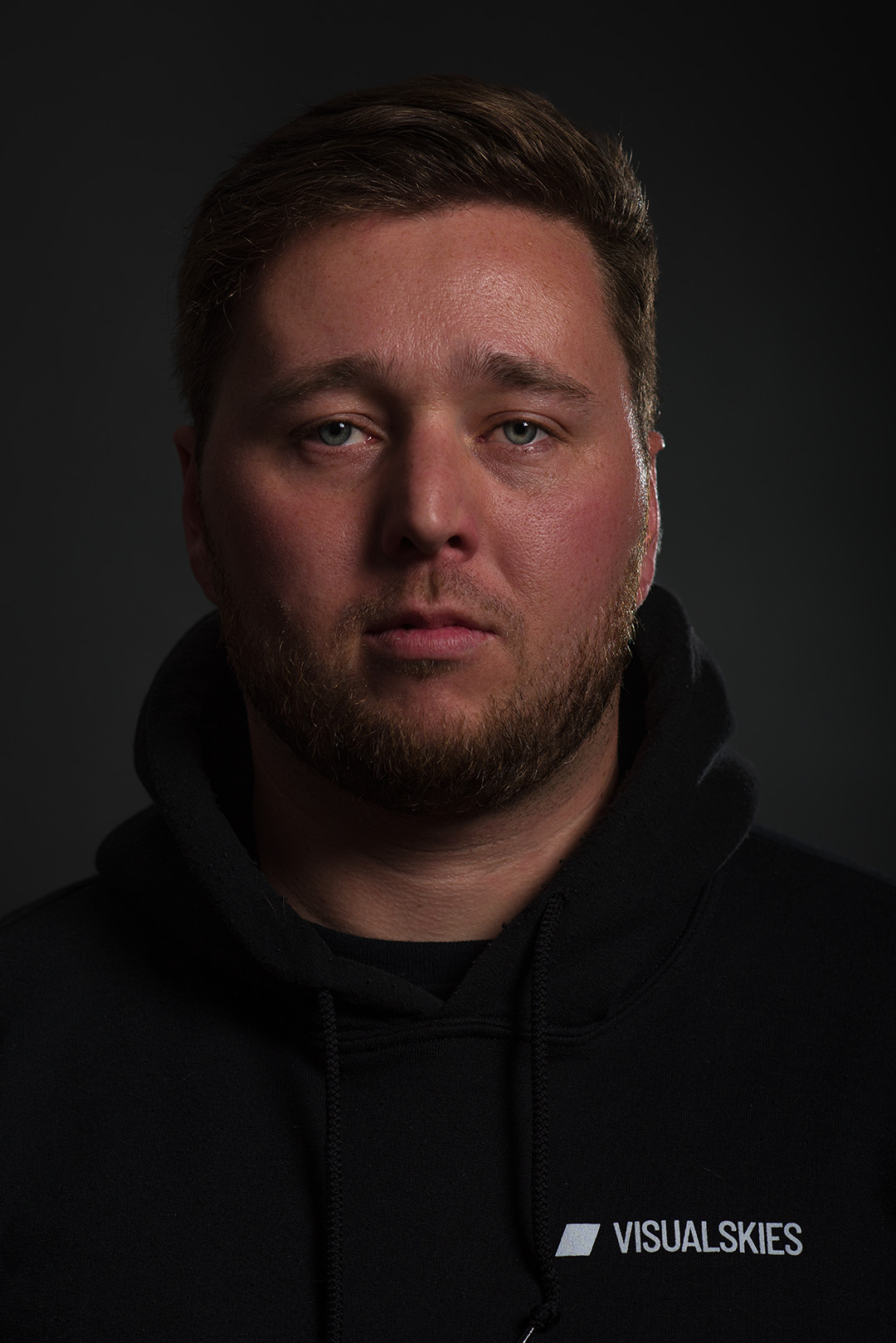 For over a decade, I have had the privilege of developing numerous groundbreaking solutions at the pinnacle of the film industry; collaborating with esteemed clients such as MARV, Disney, Apple, Marvel, and Warner Brothers; playing a crucial role in providing bespoke volumetric strategies to countless award winning productions.
Since starting Visualskies, my passion for global scanning has grown exponentially, transforming myself into somewhat of an adventurer. Despite enduring countless bites, traversing deserts, and even battling with Malaria, one thing remains clear: the show must go on!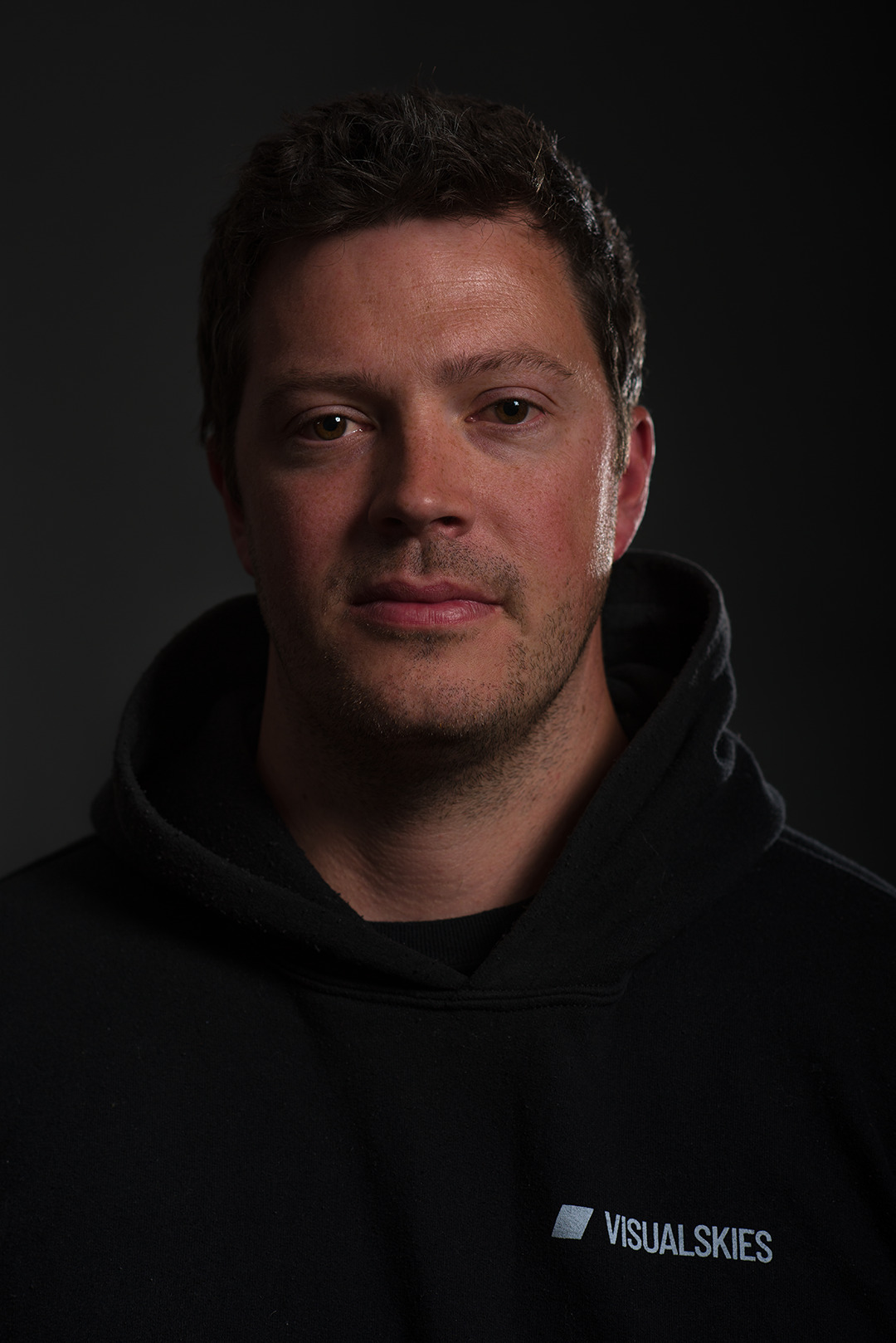 I've drawn on my 10+ years as a Chartered Architect to influence the strategic direction for Visualskies Studios; utilising a diverse range of cutting-edge 3D technology solutions across a range of industries. I'm in charge of our day-to-day and long term business management, ensuring smooth operations as well as fostering a dynamic and creative environment. Visualskies Studios is a multifaceted, international team and I pride myself on making sure each member has the framework to excel above all client expectations.
We extend a warm invitation to all to visit our studios, meet the dedicated team and see some of the exciting technology we're working on. When I'm not drone scanning or aligning LiDAR, I'm an avid cyclist, triathlon runner, family man and connoisseur of Sunday barbecues.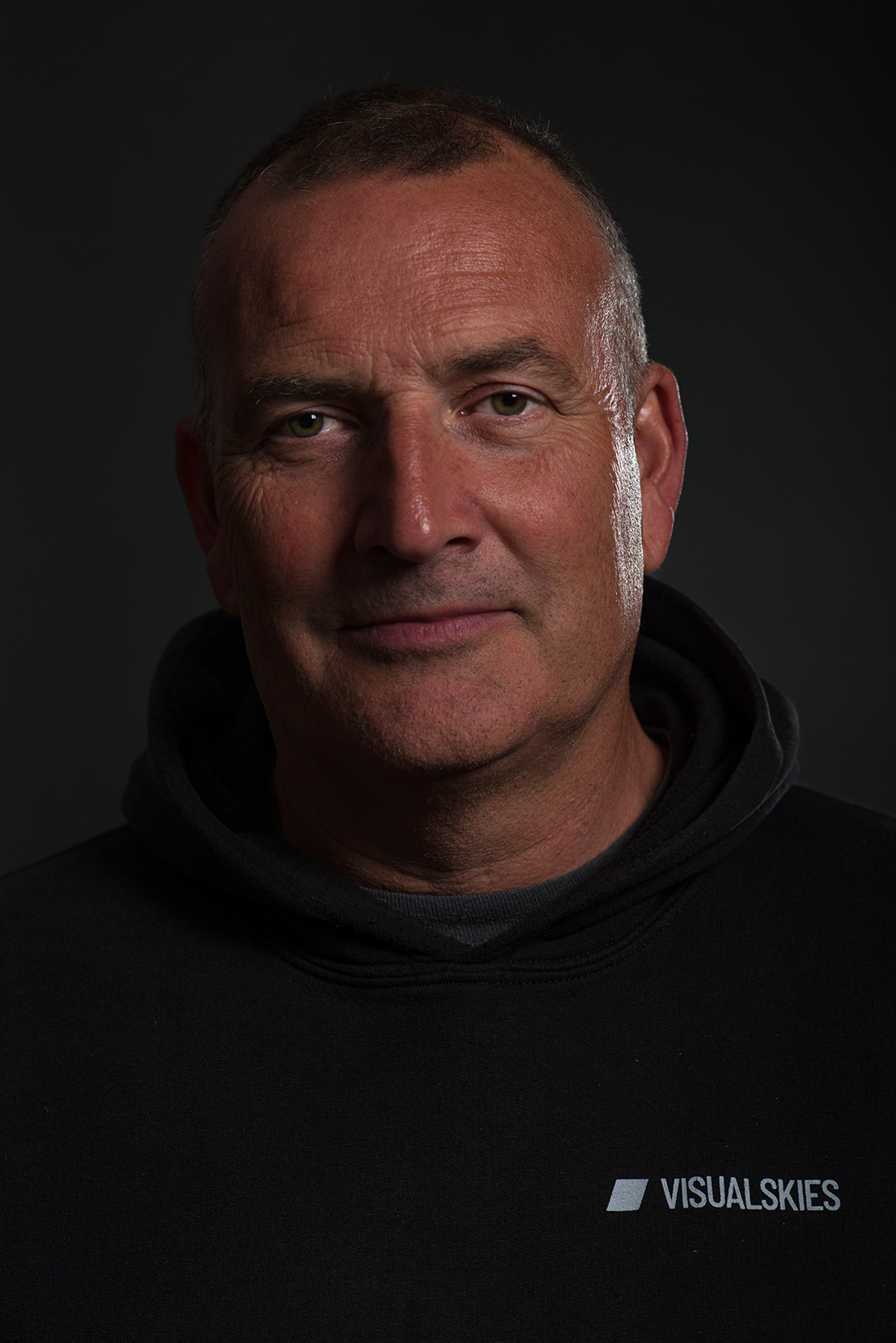 I have over 30 years experience of all forms of spatial data capture, processing, analysis and visualisation; as an early adopter of terrestrial LiDAR scanning, cyber scanning and close range scanning. Starting as a professional archaeologist, I transitioned into the survey industry, pioneering the use of laser scanning applications and forging myriad relationships in the film, television, visual effects, police and forensics, and heritage sectors. As the Director of LiDAR, I oversee our cutting-edge LiDAR technology and bespoke methodology in collecting vast amounts of geomatic data.
I take great pride in my working lives; past, present and future. Visualskies is my spiritual home, working with like minded colleagues who share my passion for life, my exacting work ethic and the ability to see humour in every demanding situation we face together.
I am proud to say that I was there at the very beginning of this incredible journey Visualskies are undertaking. I had the privilege of working side by side with Joe, Ross and Duncan from the outset; helping to develop an always evolving workflow and making full use of my 30 years of creative and technical professional knowledge. With my colleagues I have travelled around the world capturing and processing three dimensional data on spectacular projects for clients like Netflix, HBO, Disney, MARV, National Geographic, Paramount and so many others. I have been able to pass on the breadth of my experience to the newer members of the team and focus on helping establish best practice at the heart of the business.
Formally trained as an architect, I have also studied photography and art and have always been passionate about technology and spatial data. Strange as it might seem to some, for the last 18 years I have been working with 3D LiDAR pointclouds; processing data in a plethora of software packages with both a creative and artistic approach.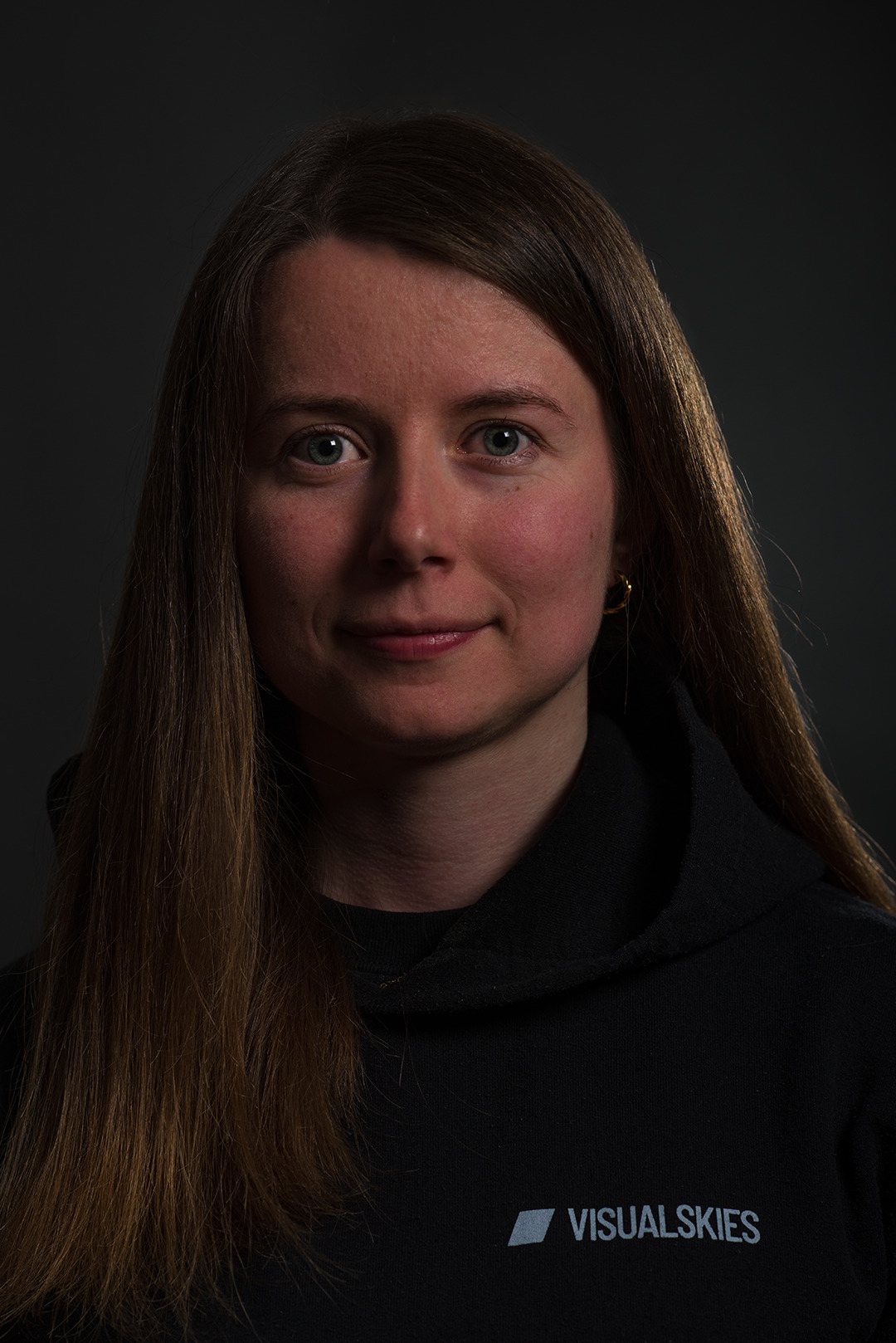 Throughout my career, I have specialised in the onsite data capture as well as the optimisation of the captured data for heritage, architecture, innovative interactive applications and high-end visual effects for film and TV such as HBO's House of the Dragon, Marvel's Moon Knight, Netflix' Bridgerton and Ridley Scott's Napoleon. I'm honoured to have collected and processed aerial data for archaeological research at Petra in Jordan (Newman & Rojas) and for condition surveys of The Palace of Westminster. With my degree as Master of Engineering in Audiovisual Media I bring a wealth of knowledge and expertise to the team.
Team VS develops and utilises cutting-edge technologies with passion. We always keep pushing the boundaries whilst simultaneously having a great time. We believe that anything is possible if you put your mind to it. Inspired by Nat Geo's 'Lost Cities with Albert Lin' and Visualskies' contribution to it, I moved to London to combine my love for drones, nature and adventure at Visualskies.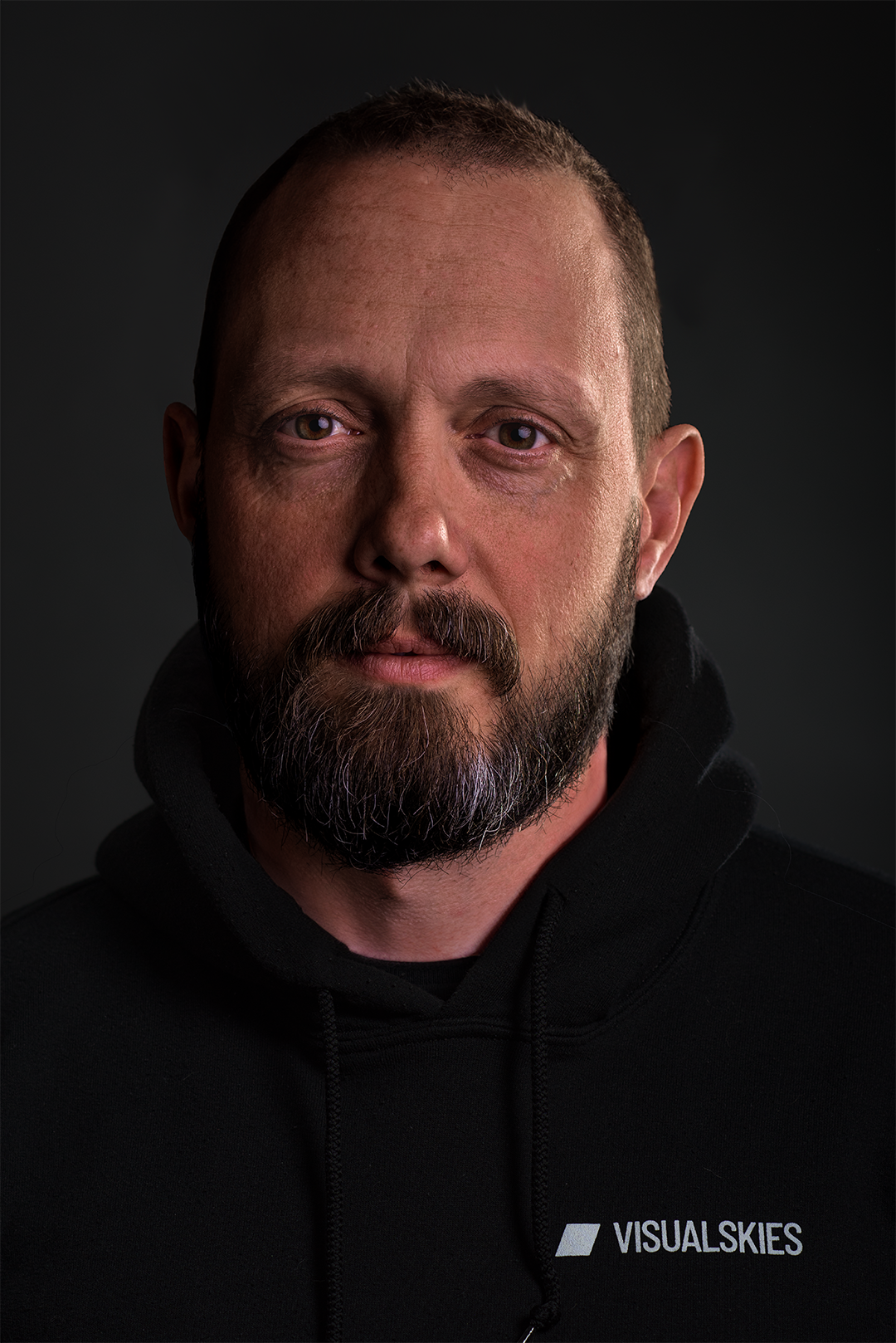 My journey in 3D scanning started in 2008, sparked by the idea to explore it as not just a tool within a toolchain, but as a unique content medium in its own right… As volumetric media.
My team and I created among the first commercially available camera array solutions and array based photogrammetry software, as well as AR apps designed explicitly for volumetric media experiences. This novel approach, along with key white papers and a suite of groundbreaking 4D XR projects over the past decade and a half, has been acknowledged with numerous awards and drawn substantial media attention that captured the interest of esteemed industry organisations like HPA, IBC, and SMPTE.
Today, I navigate a new tide of innovation from Visualskies' EU headquarters in Berlin, where I lead the EU division with help from my dog Loki and contribute to the strategic development and deployment of Visualskies global vision.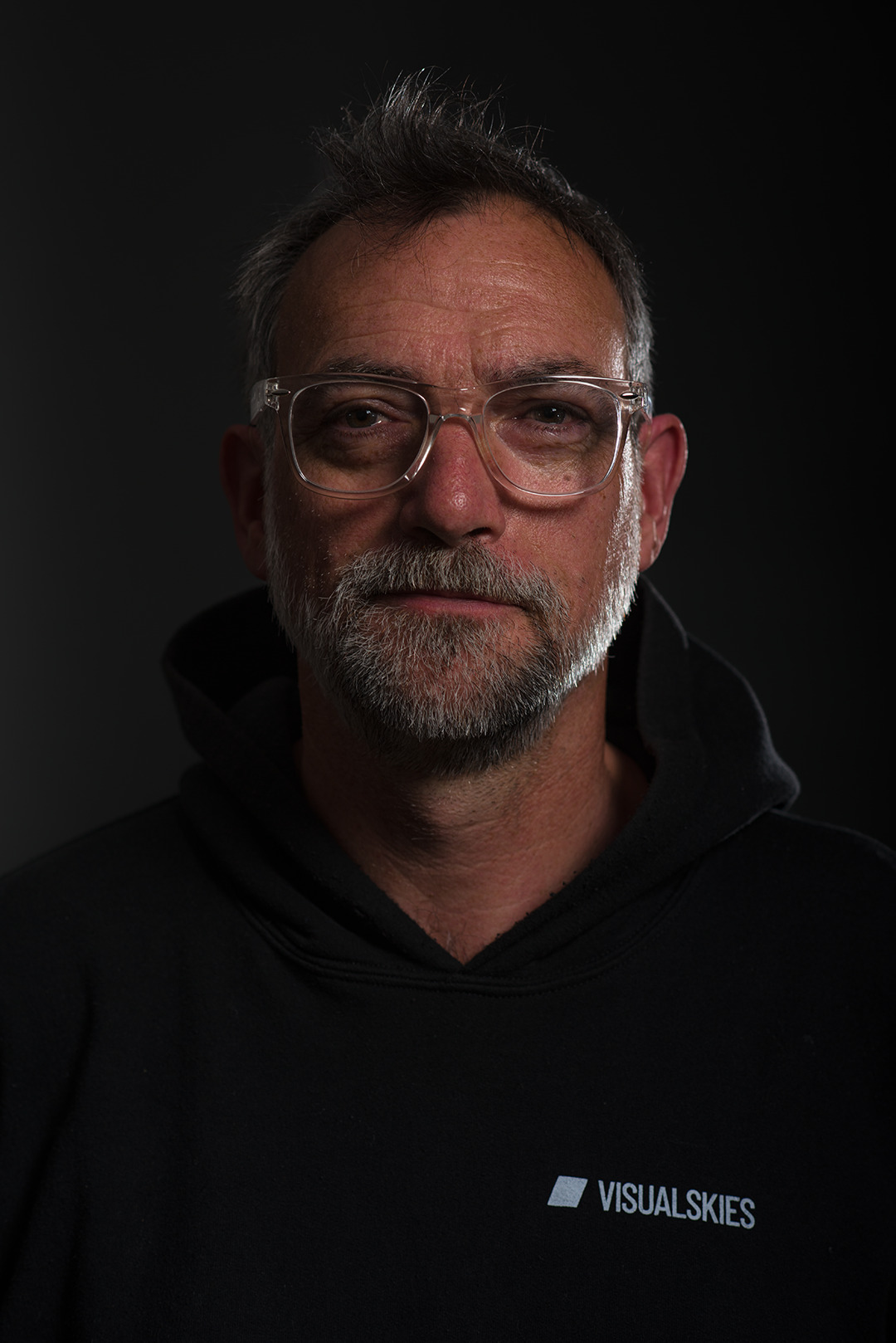 With 30 years of experience in design, animation, Video Games, TV and Film, I am proud to be able to say that my own CV includes creative contributions to some of the highest-grossing and critically acclaimed entertainment franchises in recent history.
Visualskies dynamic team consistently embraces challenge and adventure and I'm supremely excited to help them push what's possible in the immersive media space. The company's vision and values align perfectly with my own, and I'm thrilled to join forces in the creation of a new creative wing: VS/FX.
VS/FX is more than a studio; it's a collaborative vision for the future of immersive entertainment. We're pioneering a blend of artistic innovation and practical execution, focused on delivering new and engaging content across multiple industries and media.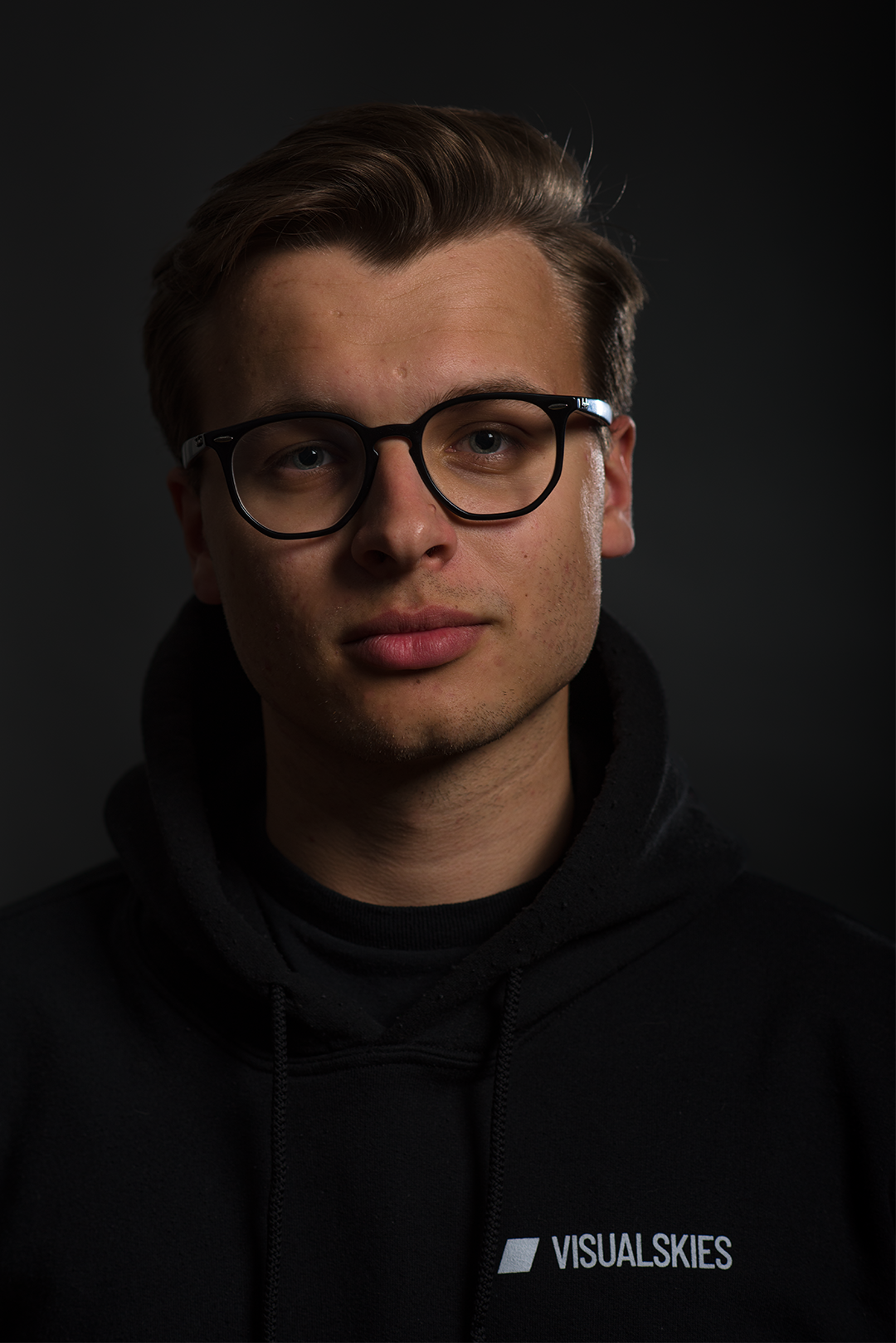 Hi I am Will, part-time nerd and full-time Technician at Visualskies. I have a Masters in Electronic Engineering with a background in computer vision and a passion for the synergy between hardware and software. Over my time at Visualskies, I have been able to apply my skills to a wide variety of projects ranging from Cyber Rig construction to Unity/Unreal game development. Due to the consistent evolutionary nature of our work I'm always looking to constantly adjust and improve all components of our technical capabilities.
I am proud to be part of the Visualskies team where we pride ourselves on our ability to tackle any problem, no matter how deep the rabbit hole.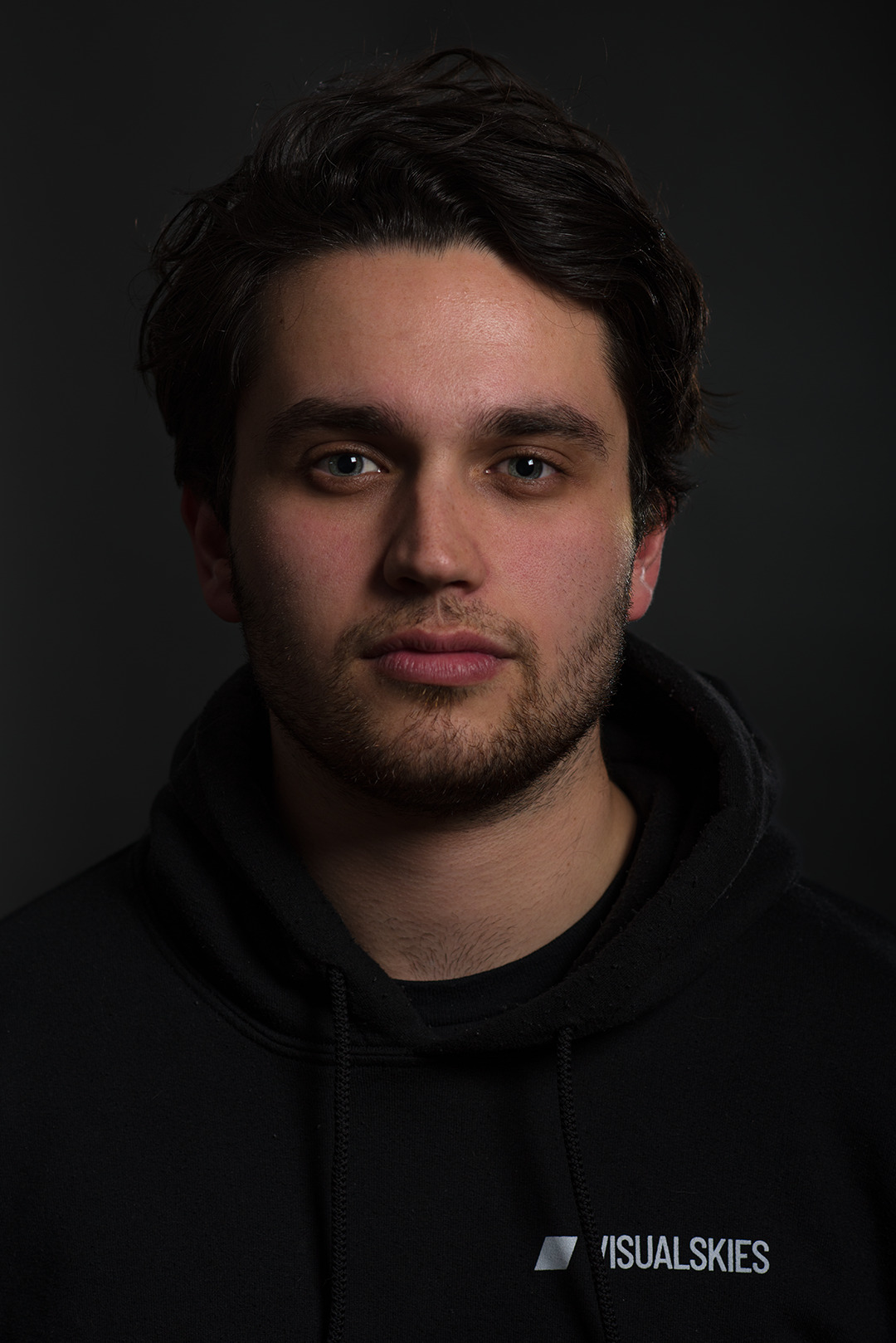 I have always been dedicated to the art of visual storytelling. With an academic background in Film/TV production, I possess the skills to not only create captivating marketing content for Visualskies but also convey a narrative through our brand's tone, voice, and to be honest… The teams breathtaking 3D Models. Originally from Oxford,
I have now called London home for over five years and Visualskies for one. When I'm not being constantly amazed by the power of volumetric media, I'm shooting music videos with friends and attempting sometimes to go to the gym.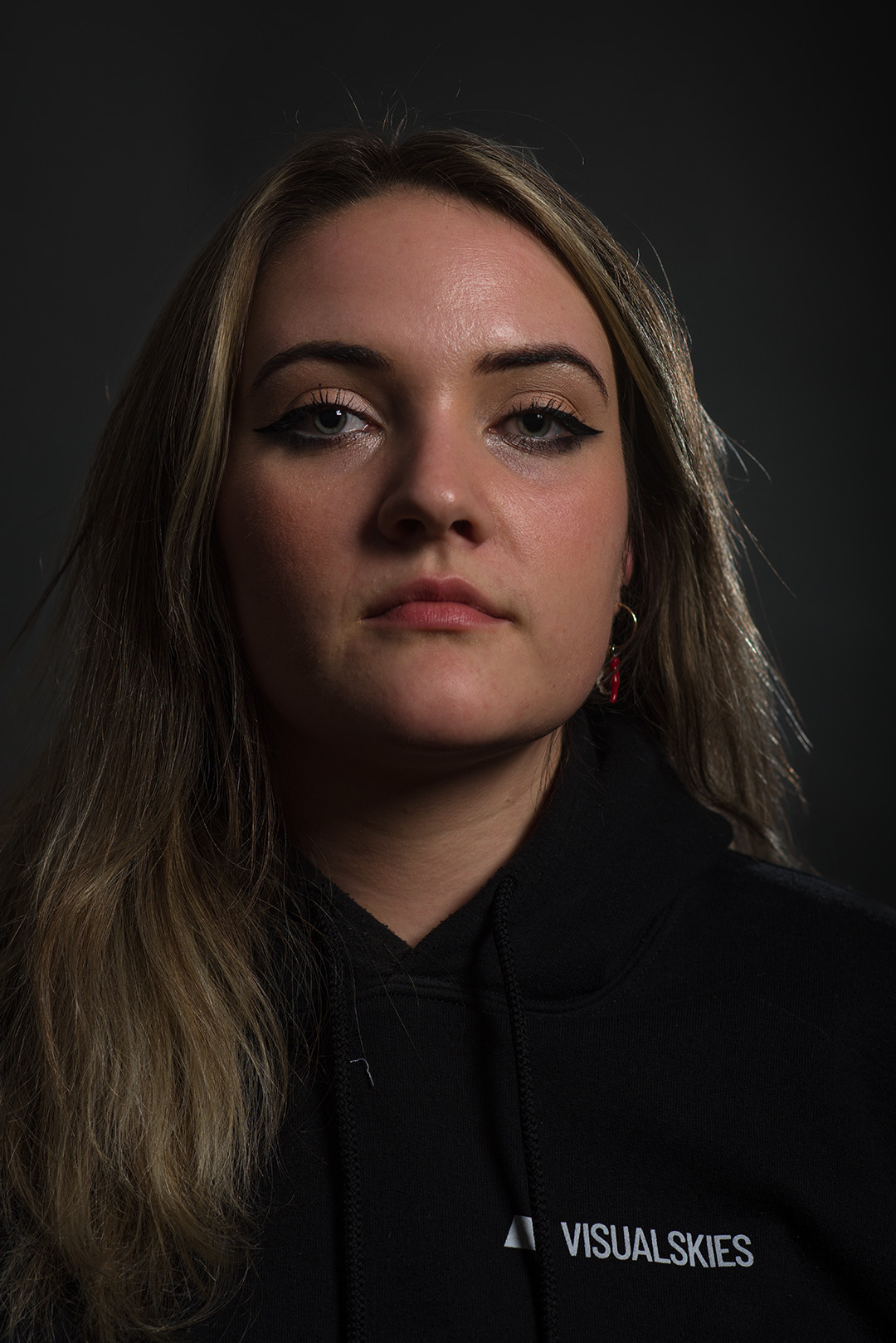 With a deep-rooted passion for art in all its mediums, I've specialised in two degrees – Film Production and Fine Art. Having cultivated a strong foundation in the creative world, I use my role as Production Manager at Visualskies to encourage fresh perspectives and optimise efficiency. Leveraging my background in mixed media, I foster a collaborative environment that empowers every team member and ignites a collective sense of creativity throughout the entire production process.
I'm a keen music lover and take my role as the office DJ seriously; Making sure to keep the team on track and working hard.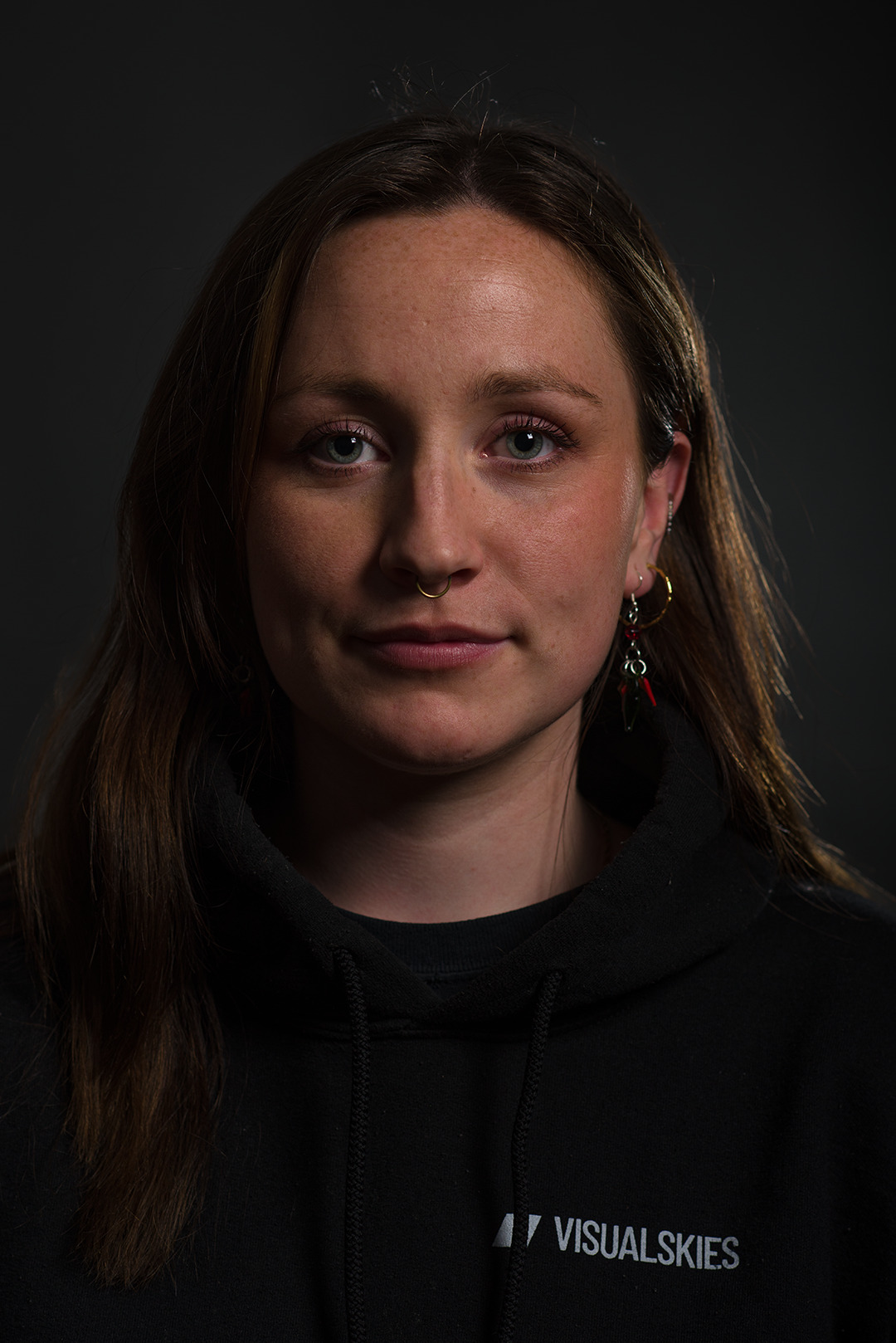 I've always been interested in finding new innovative ways of storytelling through emerging media. This interest propelled me through my bachelors degree in Contemporary Media Practise where I discovered photogrammetry and the world of 3D scanning and digital modelling.
Here at Visualskies I've been able to use these learned skills in film, tv, fashion, music and many other avenues. Volumetric capture is making its way into so many aspects of the world around us and finding new and exciting ways it can be used is something we're really good at! I can't resist the urge to playfully brag about my work whenever I watch shows with my housemates.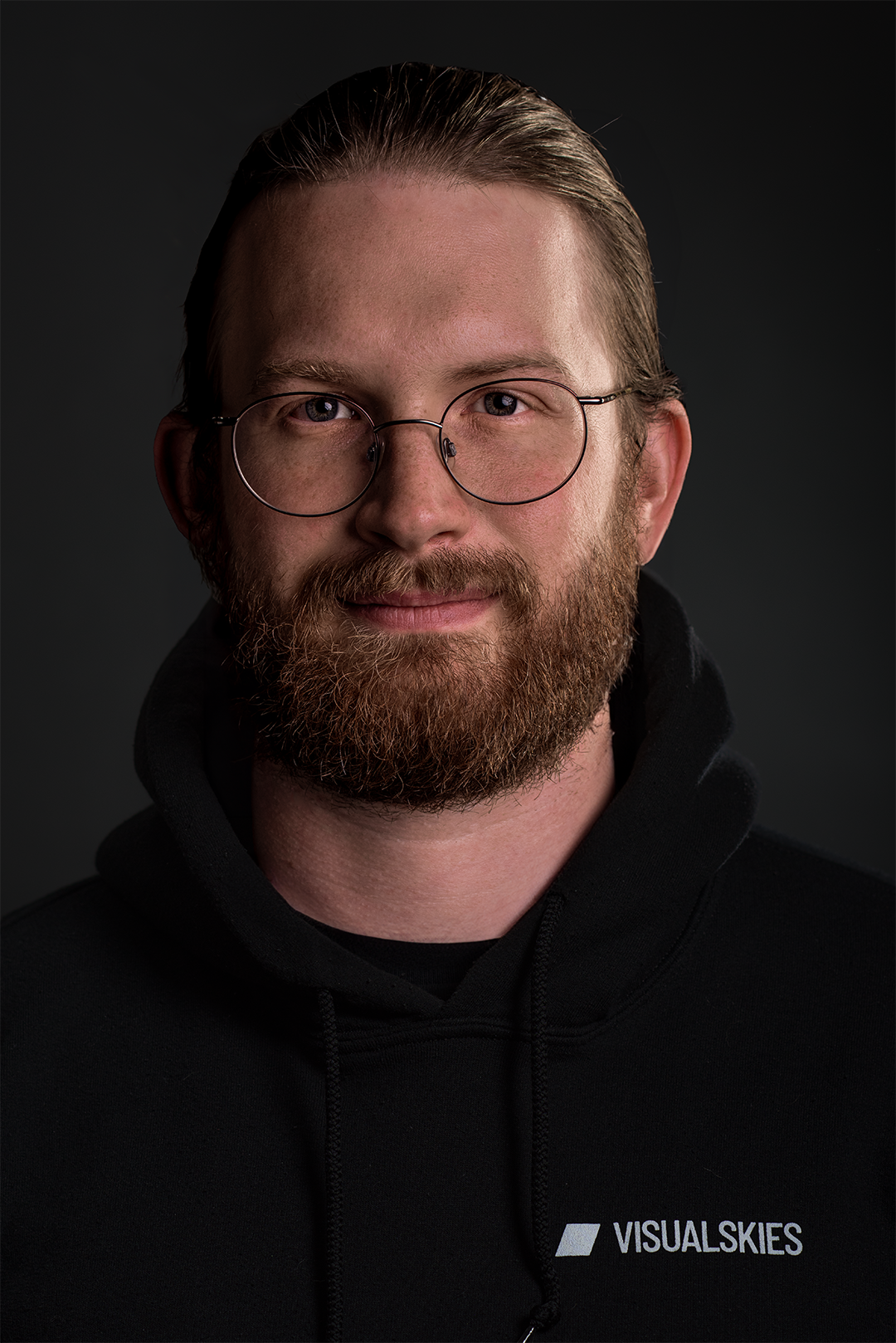 Over the years I have gained extensive experience as a Director of Photography (DoP), producer, and filmmaker. I've had the incredible privilege of working with renowned clients such as BMW Motorcycle, Fujitsu, and Roche. As a seasoned DoP, I am driven by the relentless pursuit of achieving the perfect balance within the frame and workings of the camera. This pursuit on a heightened significance when delving into the realm of volumetric media.
My understanding of the photographic process, knowledge of camera technology, and keen eye for light enable me to seamlessly integrate our projects into the broader cinematic vision of our clients. For me, 3D scanning is not just about capturing the world; but creating new ones. I'm thrilled to be a member of the Visualskies team and more specifically the brand new office in Berlin. There's only exciting things to come for the European hub.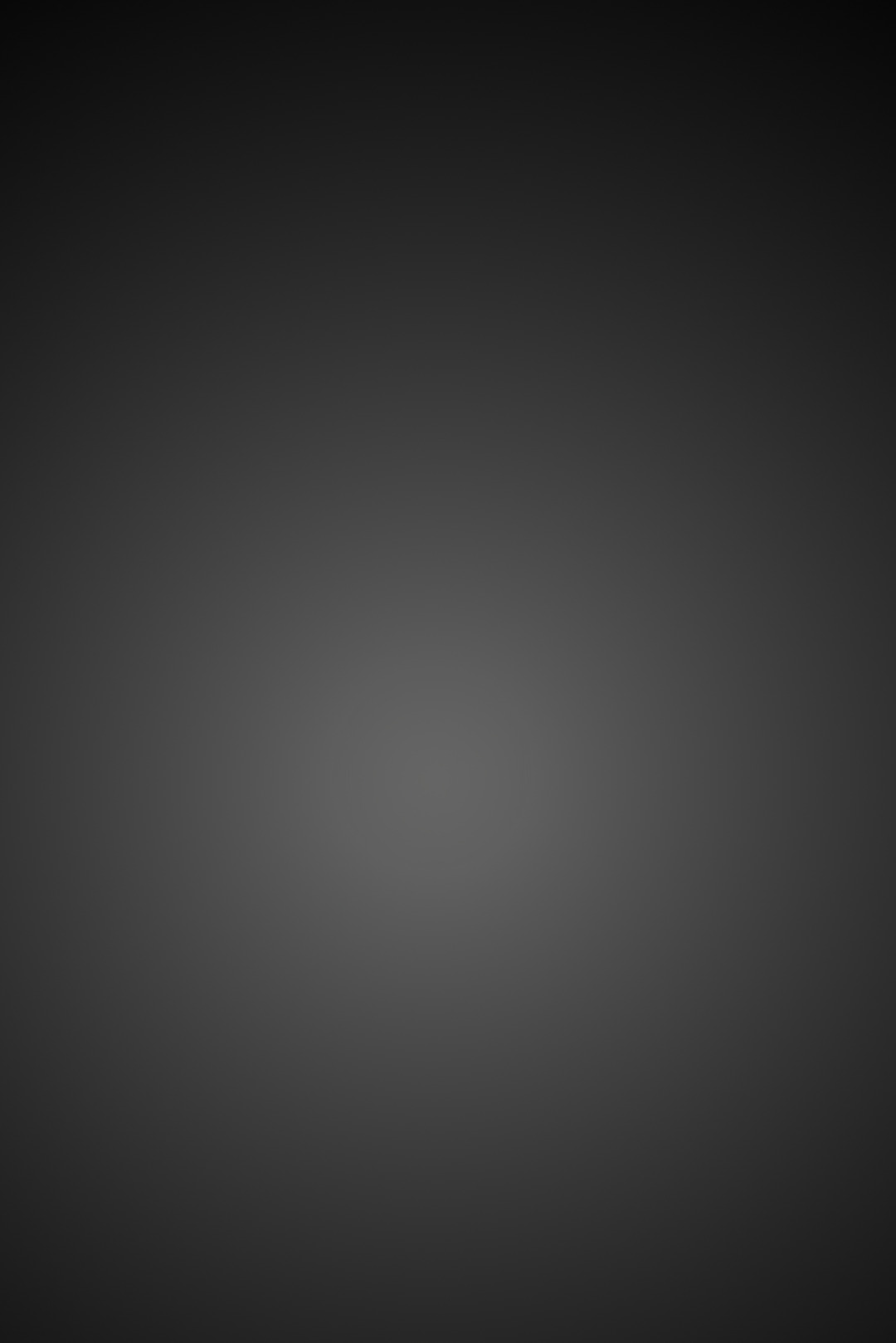 With over a decade of experience in the industry, I started as a freelance artist before joining a VR games company as a character artist. As the company evolved into specialising in 4D volumetric video captures, we worked with renowned artists like Madonna, Michael Bublé, and Coldplay, earning awards for our groundbreaking projects. I played a key role in building the studio from the ground up, establishing the practical studio setup and developing innovative pipelines for 4D captures. Notably, I created the first-ever 4D sequencing tool in Houdini, fuelling my passion for the software.
Currently, as a technical developer at Visualskies, I focus on creating efficient tools that enhance artists' productivity. Working alongside immensely talented individuals, I feel privileged to be part of the Visualskies team. In my free time, I enjoy hiking, camping, road trips with my spouse, flying drones, playing the guitar, and exploring the world of coffee.