Mobile Photogrammetry Rigs: Pioneering 3D Scanning Across Industries
In an age where digital representation is paramount, mobile photogrammetry rigs stand as the vanguard of 3D scanning services. From the detailed intricacies of cyber scanning to the practical applications of digitising actors for movies, games, and even fashion, our rigs are revolutionising the use of 3D/4D scanning across industries. As the demand for high-fidelity digital doubles surges, the versatility of our mobile cyber scanning rigs offer unmatched precision, adaptability, and portability. Dive into this comprehensive guide that chronicles the evolution, technical prowess, and expansive applications of the state-of-the-art mobile photogrammetry rigs that are shaping the future of visual representation.
Why make them mobile?
In the dynamic spheres of Fashion, Gaming, Film/TV, and Commercials, adaptability and fluidity in workflows are paramount. This drove the creation of our modular pod design. Ready to fly globally on short notice, it ensures we're always where the action is.
Why not a truck-based rig?
Simply put, trucks can't fly. Our compact, segmented rig shadows the reach and speed of any vehicle. We can assemble within hours, strategically positioning close to the set, enabling subjects to get scanned even during their coffee breaks.
Motion Pictures aren't all we do!
Our expertise extends beyond the realm of motion pictures. The modular non-rigid design of our rigs allow flexibility when catering to diverse requirements across fashion, gaming, and others sectors
At times, all we have is a confined studio or room in a stadium, as was the case for our scanning work with FIFA 23. There effectively isn't always room for a truck, their rigidness simply doesn't align with the dynamism and adaptability our projects demand.
The Evolution of Our Mobile Cyber Scanning Rigs
In the world of digital representation, our journey with mobile photogrammetry rigs has been nothing short of exhilarating, marked by pivotal moments and iconic milestones to what is now one of the best rigs in the market.
When our company took its first steps in 2015, the focus was clear, but the path was filled with challenges and opportunities waiting to be explored. While we made a mark in our niche of flying drones, hence the name… the ever-evolving landscape of digital imaging demanded more.
Before The Beginning
Our commitment to pioneering advancements is part of our DNA. Joe Steel co-founder and Director of Visualskies has been designing camera array rigs for over decade and Callum Rex Reid, our EU Director based in Berlin was an early advocate and innovator of the photogrammetry camera array as early as 2007.
"In 2007, my team and I envisioned 3D scanning not merely as another tool in a broader toolchain but as an avenue to produce unique content in its own right. Our aim was to capture moments in an instance in their entirety, akin to a photograph, but enriched with full 3D geometry. To actualise this vision, we pioneered some of the first commercially available photogrammetry camera array systems, harnessing the power of standard DSLR cameras in an array. Since no ready-made solutions existed at the time, we had to innovate at every step. From calibration techniques and specialised photogrammetry software, to data management processes and novel post processing workflows, we had to craft bespoke solutions at every juncture. While the industry has evolved significantly, the foundational principles and processes we established remain intact. At Visualskies, innovation is ceaseless. Our existing equipment ranks among the world's best, and our forthcoming innovations promise to redefine cyber rigs for years to come.

Callum Reid

MD Europe
V1 Head Rig | 2020 | The Beginning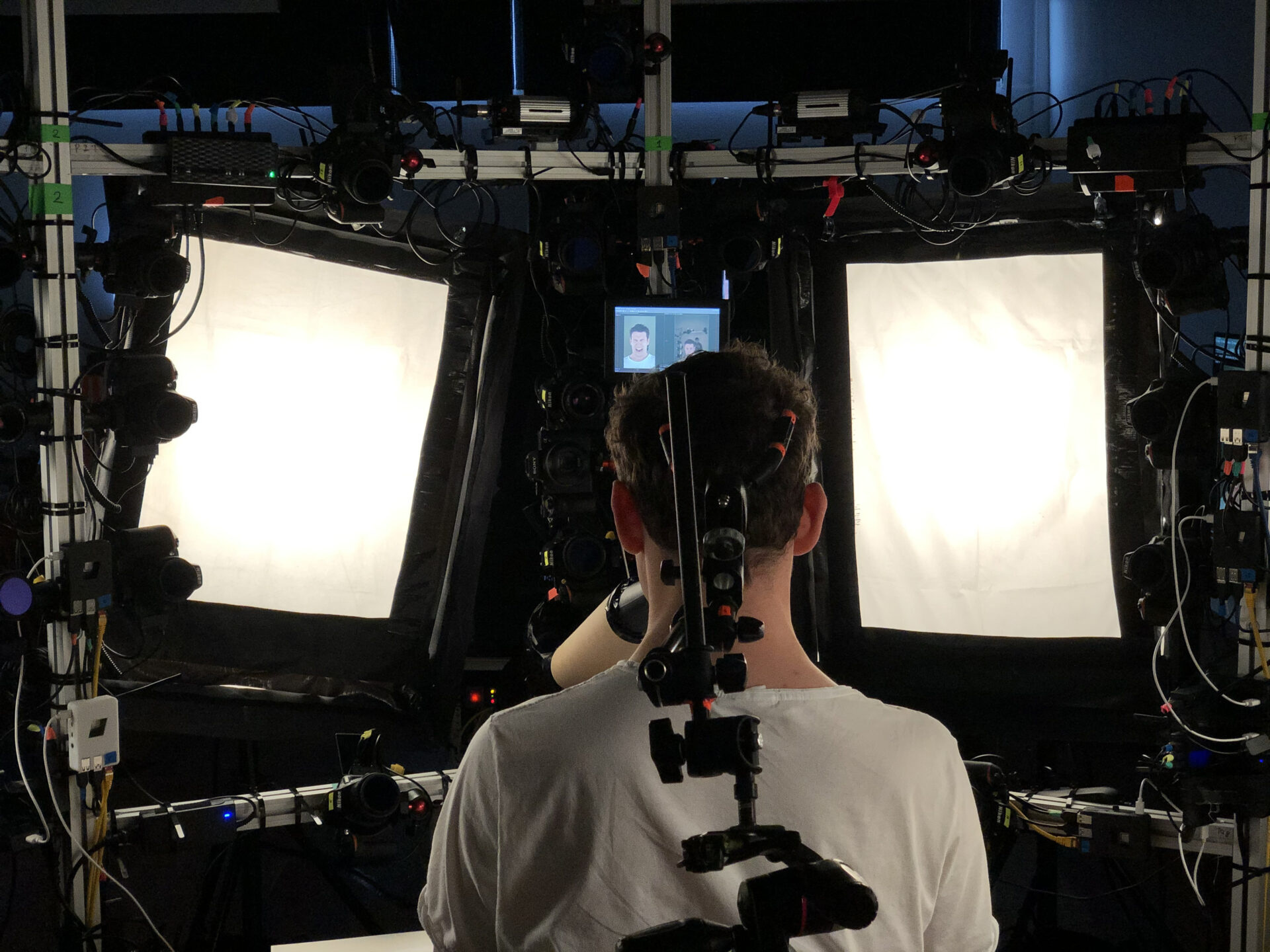 Paradigm Shift
One of the core goals of Visualskies is to be able to scan anything. Having spent the previous 5 years developing drone technology to successfully digitise large landscapes we noticed our clients were increasingly also looking for digital humans. At this point we decide to create our first photogrammetry rig; defined by two key principles, flexibility and portability.
Star-studded start
Our entry into the world of cyber scanning was nothing short of cinematic. Our first commission was the footballing superstar Ronaldo! Our clients trust in us to deliver on such a high profile digital double was a testament to our commitment and 3D scanning capabilities. Using our new state-of-the-art mobile photogrammetry rig, we captured Ronaldo's likeness with an accuracy and precision that set new industry standards.
Adapt and Evolve
For us the key is adaptability and our mobile photogrammetry envelope just that. By integrating this technology, we not only enhanced our service portfolio but also sent a clear message to the industry: we are here to innovate, adapt, and lead. Over the past three years, we've embarked on a relentless journey of innovation, meticulously refining and optimising every facet of our rigs. From enhancing camera systems and lighting configurations to fine-tuning software algorithms and material textures, our commitment to excellence has ensured that our mobile photogrammetry rigs remain at the forefront of industry standards. One of the most pivotal moments came when we decided to switch from flash to constant LED lighting. This allows us to shoot 4D, program complex lighting states, reduces the electrical load and the removes the stress on the subjects eyes thats associated with flash.
Today and Beyond
Now, armed with our advanced mobile photogrammetry rigs, we're not just participants in the digital imaging sector; we're pioneers. With every project, we reinforce our commitment to excellence and our ability to adapt to industry needs. Looking back, our pivot in 2020 stands as a defining moment, bridging our past's foundations with our future's vision, all centred around our mobile photogrammetry rigs' unmatched capabilities.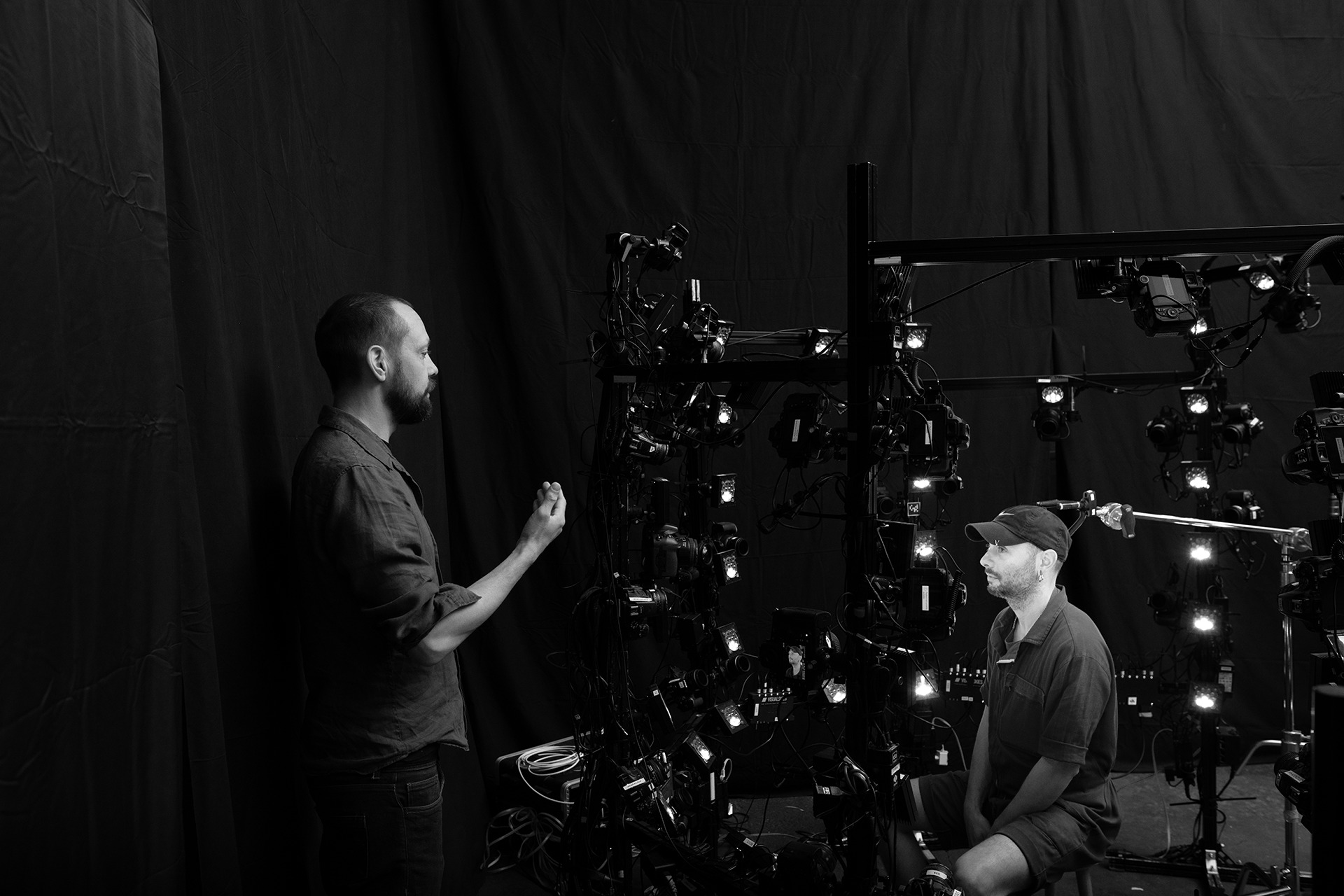 Expanding Horizons
Fashion, Gaming & More – We've Got You Covered!
Our mobile photogrammetry rigs, initially designed for the Film/TV industry, have found profound applications in other domains. In gaming, they craft hyper-realistic digital doubles, while the fashion world utilises them for avant-garde digital showcases. Commercials benefit from standout imagery, and in the burgeoning VR meta human landscape, our rigs are pivotal for immersive experiences.
In just three years our Cyber Scanning department has grown to become 35% of our business
We have grown to 32% of our jobs outside of Film/TV; showing the increased adoption of 3D scanning
We have had an incredible amount of feedback on our digital doubles. All happy clients in the rig.
Technical Breakdown: Where Precision Meets Versatility
Head Rig
Unparalleled Facial Imaging 
Full Body Rig
Compelling Digital Doubles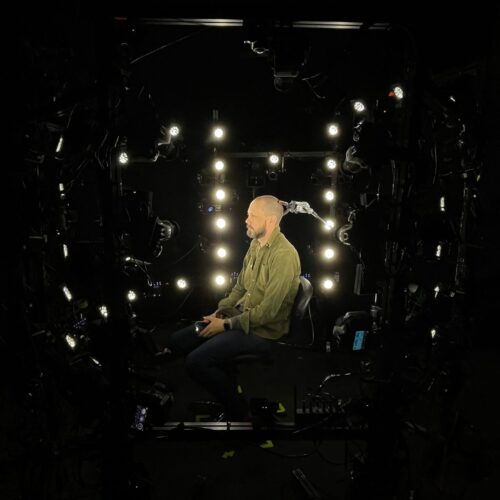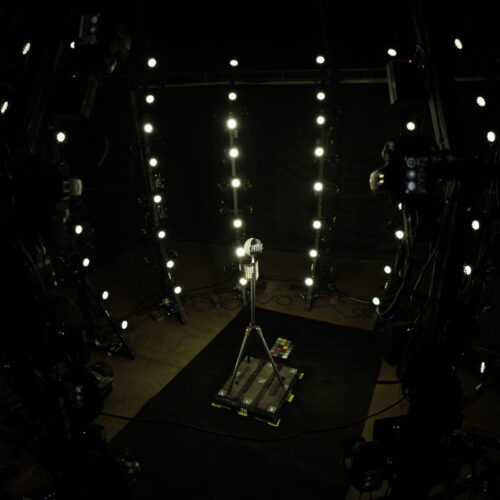 The precision of our head rig is a testament to our commitment to leading-edge technology. With FACS in mind we have purpose-built the rig from the ground up for pore-level facial imaging, it stands at the forefront of cyber scanning VFX.
Our full-body rig isn't merely a step ahead—it leaps beyond standard expectations. Designed to redefine the capabilities of 3D scanning services, its advanced configuration promises uncompromised mesh quality across all poses and subjects.
60 cross polarised cameras
120 cross polarised cameras
15-second capture time
10 giga-bit network speed
15-second capture time
10 giga-bit network speed
360° lighting
56 programmable LED photon nodes
Look dev configuration
Diffuse, albedo and specular polarisation
360° lighting
100 programmable LED photon nodes
Look dev configuration
Diffuse, albedo and specular polarisation
12 million polygon
Meticulous texture clean up
12 million polygon
Meticulous texture clean up
16K texture maps
Albedo + beauty
High pass projection
Texture reprojection
16K texture maps
Albedo + beauty
High pass projection
Texture reprojection
FAC configuration available
Modular pod design
International travel
Modular pod design
International travel
Subject/pose versatility
4m x 4m square minimum
2.7 m height minimum
Blacked out
6m x 6m square minimum
2.7 m height minimum
Blacked out
x4 13amp standard sockets
(24 hours supply required)
x4 13amp standard sockets
(24 hours supply required)
PHASE I
Irregular mesh OBJ + 2 x 16k texture maps. Albedo + beauty delivered at required LODS.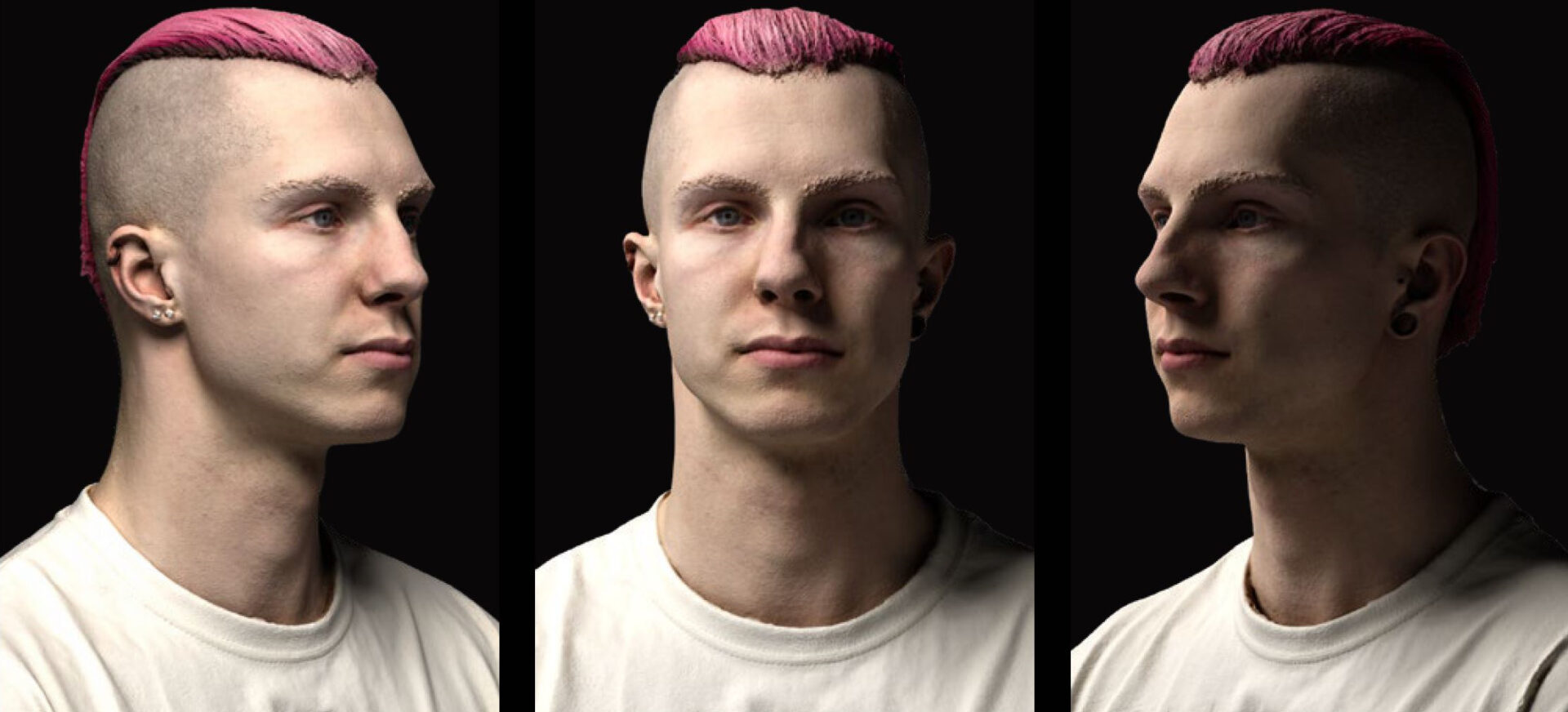 PHASE II
As Phase I with mesh and texture clean-up. High pass projection and texture reprojection.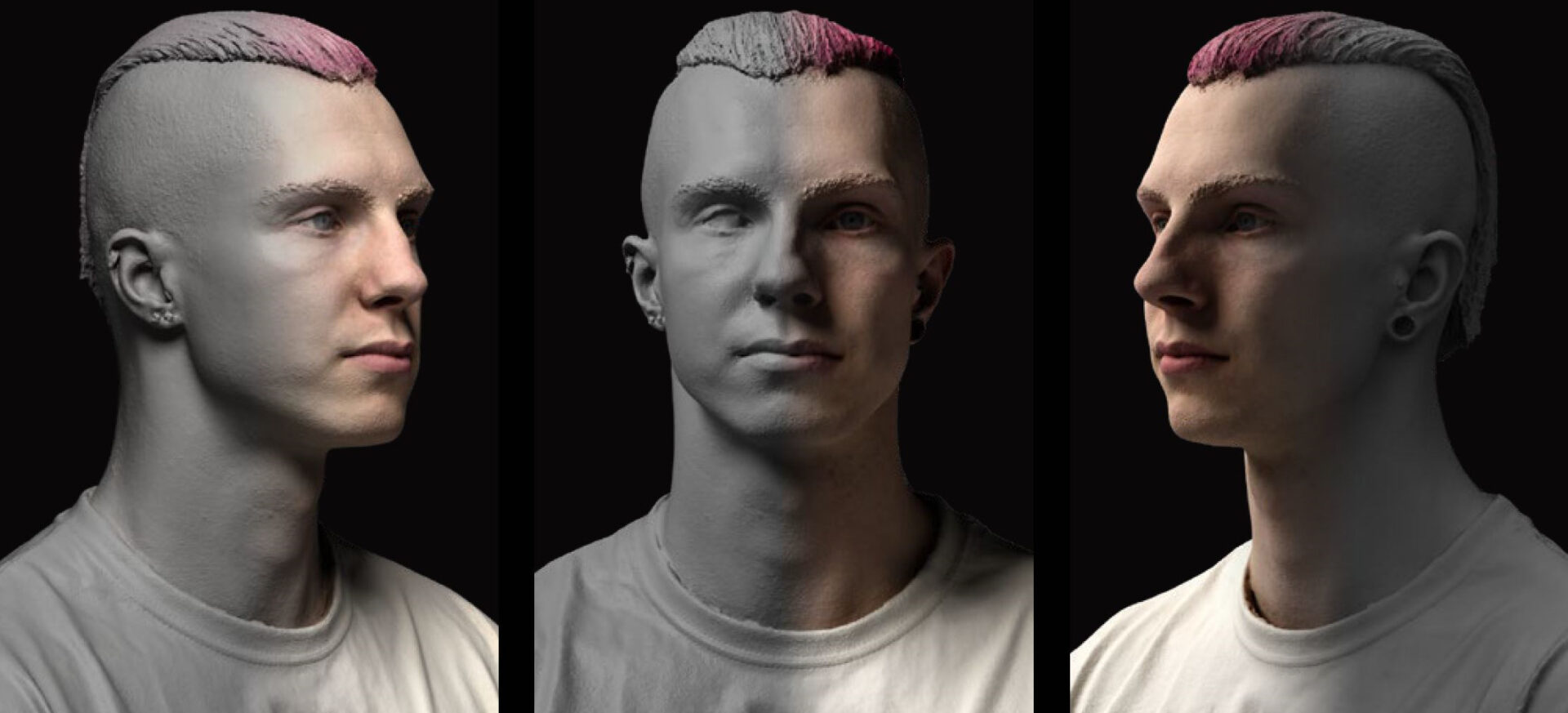 PHASE III
As Phase II with Wrap of base mesh.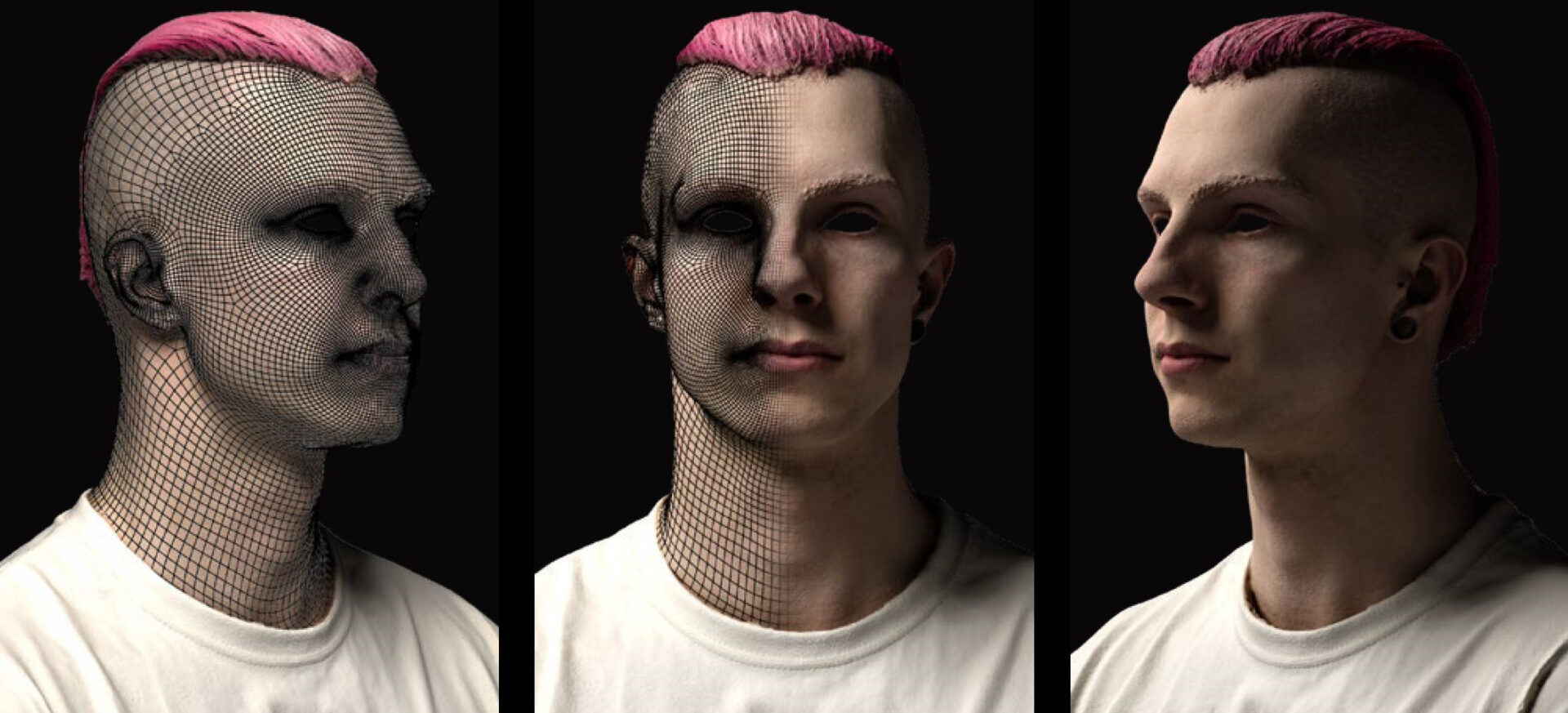 WHERE TO FIND US?
Visualskies is proud to offer our expert Photogrammetry services for VFX across multiple locations worldwide. Our presence in key cities enables us to provide prompt and efficient service to our clients. You can find us in the following locations.
Mobile Photogrammetry Rigs VFX London
5 Havelock Terrace
Battersea
London
SW8 4AS
United Kingdom